This is a month of mindsets. Whether you're beating the cold and dark with a January healthy eating kick or indulging while it's still sweater season, read on for the best of this weekend in London.
January.
The fresh start to an exciting new year, pregnant with opportunity and bursting with excitement. The Veganuary faction, if you will. The new year, new you committee, serving salad.
Then you've got the 'still cold, still broke' contingent. Banging their dispirited drum and hollering for a massive ham sandwich and the comfort of cheese.
This week's Weekender is a bipartisan effort. Whichever camp you're in, Ignite's got you covered.
No longer a fringe movement, the off-the-sauce-sector is now a major player in the UK F&B trade. Whether you're attempting Dry Jan (Ignite salutes you!) or simply into increased knowledge on reduced intake, this free festival at Brick Lane's Truman Brewery seems a very positive affair. The Mindful Drinking Movement wants nobody to feel out of place if choosing to abstain, and the plethora of delicious sounding low or no-alcohol drinks on offer leaves us assured you won't go wanting for a cheeky snifter.
If you're after more inspiration for tasty teetotal times, check out our Pinterest board featuring some of London's best sober cocktails.
Want to keep fit but eat filthy? Plant-based fun one of your resolutions? There's no longer any need to choose between indulgent eating and meat-free meals. These days, London's many of vegan and veggie offerings are as dirty as any fast fooderie's. Cue a new offering in Bethnal Green from clean cuisine queen Gizzi Erskine, which promises ABSOLUTE FILTH in the kitchen, guilt-free. Styling itself Health Food For Hedonists. We're particularly intrigued by their delectable looking burger.
When Ignite turns it's attention to a new subject, you can bet we'll do our research. Let us assure you that we used the Christmas and New Year break to heavily investigate the nuances of tequila and having done so, wish to bequeath our knowledge unto you. Unfortunately, we are having trouble recalling the finer details. Therefore, let us recommend this educational and informative-sounding evening of agave activity from Herradura Tequila. Ultimately, we feel that Month 1 is about fun.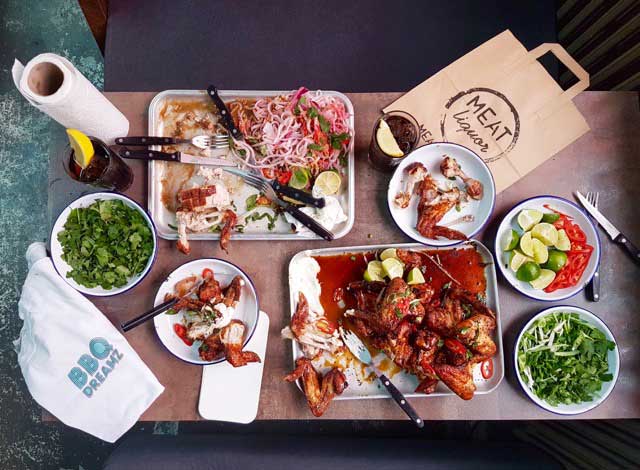 If a meat-free month equates to abject torture, and Veganuary sounds like the result of bare feet at public swimming pools, then listen in. Break out stars from the current season of Million Pound Menu, BBQ Dreamz, are popping up in Kings Cross at that temple to carnivores, MeatLiquor. We're big fans of the current Filipino food renaissance in London, with Ignite neighbour Omar Shah's takeover of Kentish Town almost complete (his Instagram is reassuringly titled Meat Confessions, if you ever doubted that this cuisine was the one for you). See you there.
Images courtesy of BBQ Dreamz, The Agave Sessions, The Mindful Drinking Festival and Filth Foods.