You may have spotted our most recent blog post, How To Achieve A More Sustainable Workplace. Ignite's newest team, MAKO, have shared THREE inarguable reasons to live more sustainably. Continuing the green theme, this week we're bringing you our recommendations for the best no-waste venues in London.
Gone are the days when eco-friendly eating meant lashings of lentils and bizarre brews that promise gut-health and deliver gastro-horror. Today, sustainability is the last word in class.
In-the-know restaurateurs and consumers have wised up to the environmental impact of the hospitality industry, realising that everything from chorizo to cannabis cocktails depends on a healthy planet.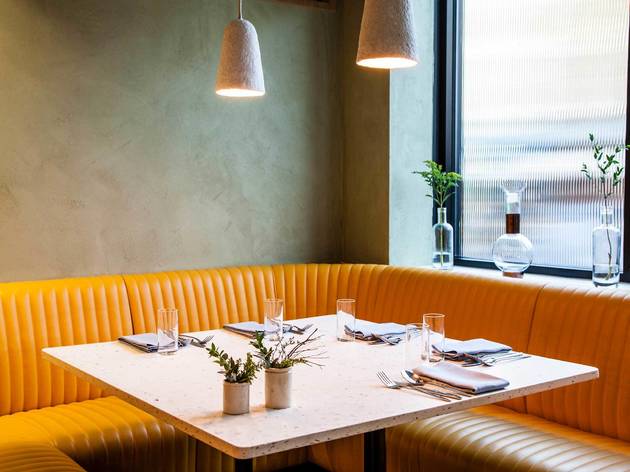 Not a dreadlock or a djembe in sight (you're more likely to find yourself in the midst of ruminations on the faces of Daft Punk than a drum circle) at this stylish small plates spot. It's a Hoxton-based venture by superstar mixologist Ryan Chetiyawardana, a waste-free cocktail pioneer, and Doug McMaster, the wunderkind brains behind Silo, the UK's first no-waste restaurant in Brighton. With these credentials, boasting tangerine-dreamy booths AND a happening basement bar, this is a date-night spot that's sure to inspire and impress.
Despite earnest appeals for hilariously difficult goals such as treating your body like a temple and, oh, saving the world, there's a cheeky side to this sustainable eatery in West London. Don't be put off by root-to-fruit menu items with names like Rawnola or Green Warrior and skip straight to decadent plant-based desserts such as Sticky Toffee Pudding and Brownie Sundaes. CBD cocktails contain house-made hemp syrup for a seriously chilled-out treat.
Ottolenghi's latest opening is a lesson in sexy sustainability, bursting with the flavour and freshness we've come to expect from this Middle Eastern dining don. With organic pomegranate seeds aplenty, biodynamic fruit and veg are fermented and fired alongside small-batch, low-intervention wines, while the fashionable set in Fitzrovia tuck in.
If you're looking for tips on how to make your hospitality business more sustainable, or want help spreading the great green work you're already doing, get in touch today!
Images courtesy of Poco, Farmacy and Cub. Header image courtesy of Olive Magazine.